St Louis Office Space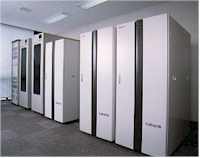 Premium eCommerce hosting is an integral part of The Internet Solution. We offer a hosting plan that has every feature that you need to run a business website, including:
100 MB Disk Space
Unlimited Website Pages
Domain Hosting (www.yourname.com)
Unlimited Email Forwarding
20 POP Email Accounts
Secure Order Processing
Unlike traditional hosting, our hosting plans are "transparent", meaning that they are automatically configured to work with your website design. You will never have to worry about installing software or uploading files, everything is done automatically to adjust for your website's design. Moreover, our hosting plans are designed specifically for business websites. With maximum uptime and business class security, you'll always be available to serve your customers online.
Hosting Only Accounts
In addition to the integrated hosting that is packaged with The Internet Solution, we also offer a "hosting only" package that includes the following features:

99% Uptime Guarantee
High-Speed Servers
CPanel Control Panel
FrontPage Server Extensions
POP3 Accounts
Unlimited Auto Responders
Unlimited Forwarders
Unlimited Mailing Lists
Remote Access to WebMail
Unlimited Mail Blockers
Unlimited FTP Accounts
Secure Shell (SSH)*
Private CGI-Bin
Password Protection
Online Email Management
Server Side Includes
Web Based File Manager
Private Secure SSL available on request
Shared Secure SSL
PHP 4.2.2
Macromedia Shockwave
Macromedia Flash
Perl Version: 5.x
CGI, TCL
Subdomains
MySQL Databases
Online Database Management
PhpMyAdmin Access

| | |
| --- | --- |
| Disk Space | 200MB |
| Monthly Bandwidth | 3GB |
| Subdomains | Unlimited |
| E-mail Pop | Unlimited |
| SQL databases | Unlimited |
| FTP Accounts | Unlimited |
| Mailing Lists | Unlimited |
| Email Aliases | Unlimited |


Within a week's time we were on the web. I have received numerous comments from customers regarding the professional appearance and ease of use of our website. They would be astounded to know that this was our very first effort at having an internet presence. They'll never know!!!!!
... read more
client success stories
What type of marketing services and information are included in the service?

The Internet Solution Smart Start Marketing Center provides you with a library of resources, ideas and know-how for using your site to generate business. You will find information such as how to setup your site as an effective sales tool, marketing ideas, traffic generating techniques and our search engine submission module.

... read more faqs